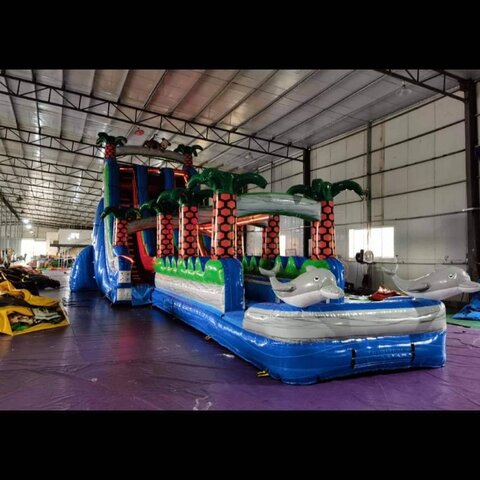 BIG ISLAND SLIDE
Actual Size: " 50' x 15' "




Introducing the Big Island Slide - the ultimate addition to any summer party or event! This massive inflatable slide stands at an impressive height of 25 feet and stretches 50 feet in length, providing endless hours of fun for kids and adults alike.
Featuring a thrilling water slide that leads to a long slipe and slide, then into a refreshing splash pool, the Big Island Slide is perfect for beating the summer heat. The slip and slide section adds an extra element of excitement, allowing riders to glide across the surface on their bellies before splashing down into the pool.
Constructed from durable, high-quality materials, this inflatable slide is built to withstand the rigors of repeated use and is sure to provide years of entertainment. Its vibrant colors and eye-catching design are sure to draw a crowd and make it the centerpiece of any event.
So why wait? Add the Big Island Slide to your next party or event and watch as your guests have a blast sliding, splashing, and slipping their way to summer fun!
Contact us today to reserve your rental!